Latest Productions
Sing London produces city wide events in which the wider public can engage.
Search Party 2016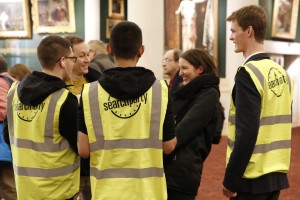 On March 20th, London's pocket parks, squares and piazzas were transformed into an immersive green playground. Search Party was the flagship commission for the Mayor of London's 'Find your London' festival. Two and a half thousand searchers  shrugged off the windy weather and followed 3 trails as they searched for one secret party. Searchers were lead and mislead through hidden gardens, squares and side streets. En route, they found themselves confronted with a wide range of tasks: Chanting with monks, identifying herbs, confronting Gladiators, discovering the history of protest, joining a hula hoop troupe, hooking ducks, and … and working out … the square route of dance.

The Wonderpass – January 2016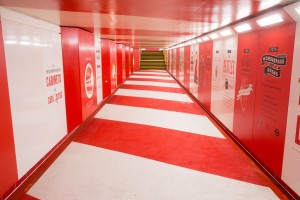 The Marylebone Road's once bleak pedestrian underpass has been transformed into an intriguing Wonderpass. Part optical illusion, part local encyclopedia, part gallery, The Wonderpass introduces a new kind of urban crossing. The walk-through experience includes five Cabinets of Wonder. Each invites the passer-by to peek inside to learn about Baker Street's rich cultural history and has been designed in partnership with a local cultural attraction.

Statue Stories Chicago – August 2015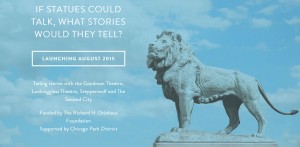 Statue Stories Chicago brings theatre to the streets and parks of Chicago. Launched in August 2015, it is funded by The Richard Driehaus Foundation. It is delivered with Steppenwolf, The Second City, Lookingglass and Goodman Theatres. Further support comes from Chicago's Park District, libraries, museums, and from the Mayor's Culture Department.

Ping! England 2015
Ping! London recently finished its 6th year on our streets this summer.
Ping! Is the public ping pong project that installs tables in landmark locations for everyone to play on, from stations to stately homes, pubs to parks, markets to museums.
Ping! is a free event: to take part, simply borrow a bat and ball from the side of the table and start playing.

Talking Statues, London & Manchester – 2014
Talking Statues launched August 2014, generating media coverage across the world. Talking Statues gives voice to 35 iconic statues across London and Manchester. Pass a talking statue, swipe your phone on a nearby tag and  get a call back from Queen Victoria, Sherlock, or  Peter Pan… The project attracted contributions from the UK's leading writers, actors and comedians – Patrick Stewart  to Dominic West, Tony Harrison to Anthony Horowitz. The statues will talk for a year. To hear them talk, you need to pay them a visit.
Find out who's talking where: In Manchester and in London.

Travelling Museum of British Invention at Parliament Week! 2013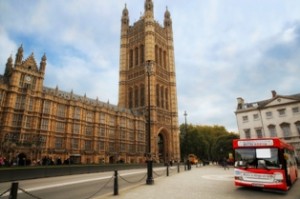 As part of Parliament Week, The Travelling Museum was invited to the Houses of Parliament to celebrate the home of many of the UK's political and social innovations. Whether Parliament has been responsible for putting the wheels in motion or sometimes halting the transformation of British culture, Parliament has always been closely linked to Britain's long history of innovation and invention.
We added additional exhibits to our already packed bus and opened our doors to the London public for the first time!

Travelling Museum of British Invention – 2013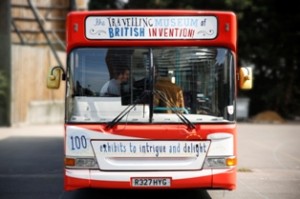 The Travelling Museum of British Invention is a bus filled with 100 of Britain's most important inventions, discoveries and social innovations. Inventions are packed into nine themed cabinets of wonder and  each exhibit tells a concise story using intriguing anecdotes, surprising artefacts and even the odd jar of facts.  We began our bus tour in Scotland in October, stopping at public squares, shopping centres, schools and factories.  Its purpose is to arouse curiosity and shed new light on British innovation.  Admission is free and the bus is designed for people of all ages.  A tour of England is planned from May 2014!

Ping! England 2012
Ping 2012 was a big hit. We worked across 7 cities, installing 700 public ping pong tables and the rest happened naturally. All kinds of people stepped up to the table – from novice to expert, workmen to banker, the very young to the very old. People played ping pong in airports and train stations, public piazzas and shopping centres, ping pong parlours, street markets, music festivals and forests. And then they played some more. Ping generated press attention across the world. It also helped trigger a new zeitgeist – bringing the game back into fashion. Ping will be returning in 2015.
Talking Rubbish 2011
Sing London partnered with Keep Britain Tidy to tackle the ever increasing problem of litter in this country. So Sing London's theory – let's make it fun to be good …
These bins are made for talking – and that's just what they'll do … and one of these days these bins are gonna talk right back to you!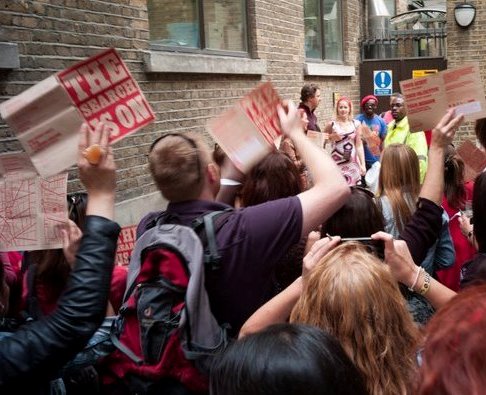 Search Party 2011
30 clues, 3000 people, 3 trails leading to … 1 Amazing Party! Taking treasure hunts to a new level!
London's largest treasure hunt took Searchers into secret parks, hidden bakeries and got everybody thinking, talking and even dancing together.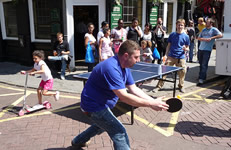 Ping Hull and Ping Brum in 2011
Sing London is working with Sport England and Puma to deliver Ping Hull and Ping Brum in 2011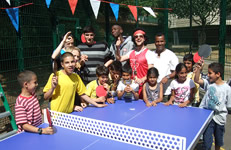 Ping – 2010
In Summer 2010, 100 ping pong tables popped up across London from the Tate Modern to Heathrow Airport, in London's squares, museums and shopping centres. The tables were there for all Londoners to enjoy for free and attracted over 30,000 ping pong lovers.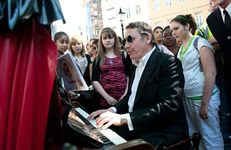 Sing London Street Pianos – 2009
A festival to unite the city in song – all kinds of people, singing all kinds of music in all kinds of places. 30 pianos and lots of sheet music were placed all over London ready for Londoners to play and sing along to.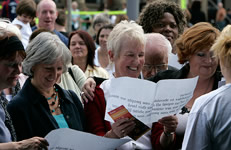 Sing the Nation – 2008
From July through August 2008, Sing London rolled out public singing events in museums, libraries and parks across the nation, from Belfast to Bradford, Cardiff to Cumbria, Hull to Norwich and Swansea to Walthamstow, the nation was united in song.
Participating Towns & Cities: Belfast; Birmingham; Blackpool; Bradford; Cardiff; Coventry; Cumbria; Darlington; Derby; Hull; Glasgow; Leeds; Leicester; Liverpool; London; Manchester; Middlesbrough; Norwich; Oxford; Portsmouth; Rotherham; Southampton; Staffordshire; Sunderland; Swansea; Telford; Upton upon Severn; Walthamstow.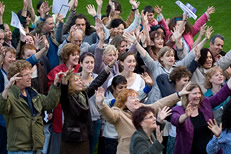 Sing London – 2007
For 10 days in Summer 2007, Sing London rolled out public singing events in museums like the V&A, singing lessons from an expert from The English National Opera and shopping centre and supermarket sing-alongs to unite the city in song.