Browsing articles from "May, 2016"
Talking Statues
Talking Statues launched August 2014, generating media coverage across the world. Talking Statues gives voice to 35 iconic statues across London and Manchester. Pass a talking statue, swipe your phone on a nearby tag and  get a call back from Queen Victoria, Sherlock, or  Peter Pan… The project attracted contributions from the UK's leading writers, actors and comedians – Patrick Stewart  to Dominic West, Tony Harrison to Anthony Horowitz. The statues will talk for a year. To hear them talk, you need to pay them a visit.
Find out who's talking where: In Manchester and in London.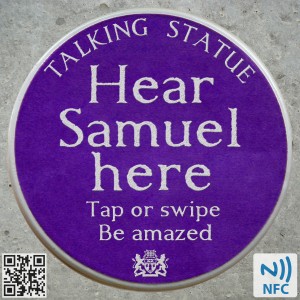 Sponsors and Partners
Talking Statues
Statues can't just talk by themselves, you know!
Our projects are funded by local governments, trusts and foundations, and by corporate sponsors.
Search Party – 2016
Funded by the GLA as flagship event for Find Your London
Further support from: Coram's Fields; Kings Cross; Guildhall Art Gallery; London Canal Museum; Museum of the Order of St John; St John's Ambulance; Groundwork
Baker Street Wonderpass
Baker Street Quarter Partnership; TFL
Design partner: Big Design
Talking Statues Leeds – June 2016
Yorkshire Festival
Extra support: Leeds Art Fund
Theatre partner: West Yorkshire Playhouse
Statue Stories Chicago
Funded by the Richard Driehaus Foundation
Further support from Audible.com; Chicago Park District
Delivered in partnership with: City of Chicago; Chicago Libraries; The Art Institute of Chicago
Theatre partners: Steppenwolf; The Goodman; The Second City; Lookingglass Theater Company
Press: Kickstart Marketing Chicago
Talking Statues London ; Talking Statues Manchester
Funded by NESTA Digital R&D Fund; Google Fieldtrip; Audible.co.uk
Further support from the City of London; Broadgate; Canary Wharf; Manchester City Council
Theatre partner: The Almeida Theatre
Press: Riot PR
Ping! – The street ping pong festival, now in 18 UK cities
Funded by Sport England; Puma; Yahoo; Broadgate; Canary Wharf; City of London
Further support from the English Table Tennis Association; St Pancras Station
The Travelling Museum of British Invention
Royal Academy of Engineers (Ingenious Award); The Scottish Government;
Talking Science; John Ellerman Foundation; First Group Buses
Bing Thinking
Funded by Keep Britain Tidy with support from Westminster City Council
Search Party – 2011
Funded by: Create Festival Commission as flagship event for Cultural Olympiad
With support from London Borough of Hackney, Canary Wharf and the Paul Hamlyn Foundation
Street Pianos
Paul Hamlyn Foundation, the Greater London Authority; Westminster Council
Singing Histories
Heritage Lottery Fund; the British Library
Cities of: Leicester; Birmingham; Hull
With support from Cecil Sharp House
Sing the Nation
LOCOG and the Cultural Olympiad Team
Cities of: Manchester; Hull; Birmingham; Kent; Plymouth; Sunderland
Sing London 2007
Paul Hamlyn Foundation; Awards for All; Arriva Buses; CBS Outdoors; Starbucks;
With support from: the Victoria & Albert Museum; Tate Britain; National Portrait Gallery; English National Opera; the Royal Opera House; the Science Museum; the National Gallery; the Jazz Cafe
People who have kindly given us their time:
Jools Holland; Jude Kelly; Gareth Malone; Libby Purves; Jean-Philippe Gatien; Brian May; David & Carey Grant; Wayne Hemingway